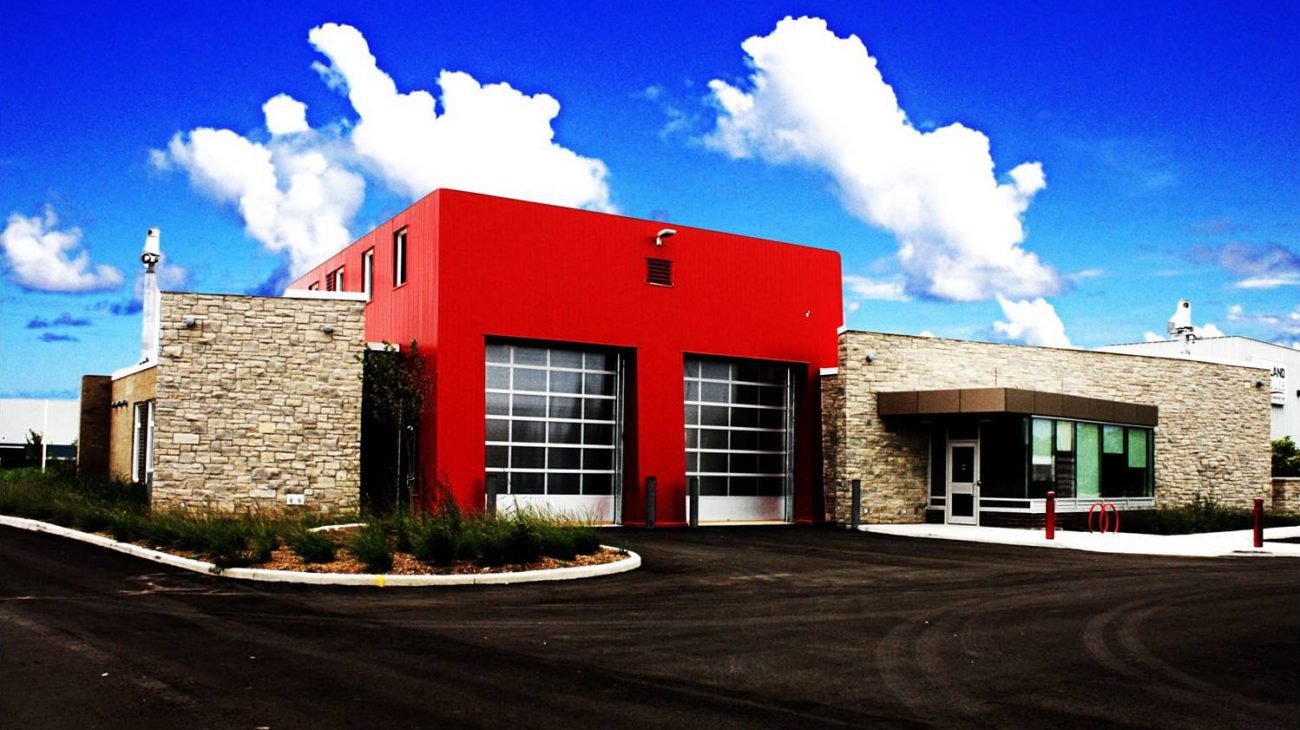 Fire Station #8
Designed to achieve LEED Silver certification upon completion, METTKO successfully worked within the stringent timeframes of the stimulus program (Canada Action Plan) to deliver a successful project outcome.
The new fire station recently obtained LEED Gold Certification. This fire station uses approximately 60% less energy and provides a proportionate percentage of savings on greenhouse gas emissions.
Green Features of Fire Station #8 include:
Energy Saving Measures
A highly efficient building envelope which includes 50% additional insulation to perimeter walls, foundation and roof to reduce heat loads.
Fibreglass-framed high performance glass windows were located and sized to minimize electric light usage and give workers a healthy exposure to natural light, ventilation and views. The thermal performance for these windows is 30% better than aluminum windows.
The high-efficiency heating system includes a solar wall to preheat fresh air and a heat recovery system to transfer wasted energy back into 100% fresh air supply. This system is 60% more efficient than a standard HVAC system.
Light-coloured roof materials were selected to reduce roof temperatures which lowers the heat island effect and urban temperatures. Less energy is used to reduce interior temperature.
Partnered with Burlington Hydro to supply and install a 10 kW Solar Array System on the exterior perimeter of the station which feeds energy back to the grid system.
Water Saving Measures
A seasonal storm pond has been integrated into the property to reduce water run-off from the site.
A regenerating and water efficient landscape has been incorporated to reduce water use.
Occupancy sensors and low flow fixtures have been included to reduce water usage.
Waste Management/Reduction
75% of waste was diverted from landfills
Materials used were 15% recycled content
Other
Close to public transit
20% of materials were manufactured locally
Optimized indoor air quality by using low emitting materials (paints, carpets, etc.), indoor chemical and pollutant control
Designed people spaces for high quality natural lighting with 90% of occupied space having views to exterior